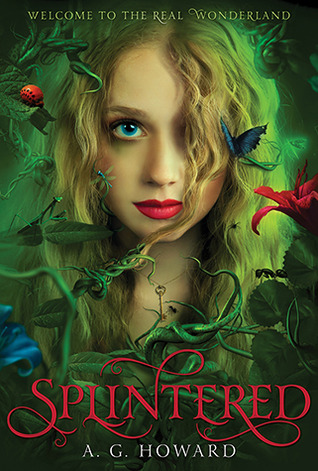 This stunning debut captures the grotesque madness of a mystical under-land, as well as a girl's pangs of first love and independence. Alyssa Gardner hears the whispers of bugs and flowers—precisely the affliction that landed her mother in a mental hospital years before. This family curse stretches back to her ancestor Alice Liddell, the real-life inspiration for Lewis Carroll's
Alice's Adventures in Wonderland
. Alyssa might be crazy, but she manages to keep it together. For now.
When her mother's mental health takes a turn for the worse, Alyssa learns that what she thought was fiction is based in terrifying reality. The real Wonderland is a place far darker and more twisted than Lewis Carroll ever let on. There, Alyssa must pass a series of tests, including draining an ocean of Alice's tears, waking the slumbering tea party, and subduing a vicious bandersnatch, to fix Alice's mistakes and save her family. She must also decide whom to trust: Jeb, her gorgeous best friend and secret crush, or the sexy but suspicious Morpheus, her guide through Wonderland, who may have dark motives of his own.
~Taken from Goodreads
OKAY! Let's talk about SPLINTERED- the positives and the negatives!!
#The Negatives
->You should read the original Alice in Wonderland if you want to know what exactly is going on and why. I've never read it, so I felt a little lost. Therefore, I suggest you read Alice in Wonderland by Lewis Carroll first.
->Too much romance. It gets really annoying and pointless most of the time.
->The author tries censoring language by making Jeb (the only character who's 'swearing') say stuff like "You son of a bug" which- honestly- breaks all the tension and makes his rage really stupid. Like, son of a bug? I get it, you want to censor the language, but I think it just ruined the whole effect.
->The blurb makes Wonderland sound really twisted and dangerous and scary but it wasn't. At all. (Maybe I felt this way since I've never read the original and was expecting something totally creepy) but this part kind of disappointed me.
-> I felt the characters were one-dimensional and not very well explained/threshed out.
#The Positives
->No bad language.
->Amusing take on continuing Alice in Wonderland.
->It was fun reading it if you didn't think about it too much.
->The cover is beautiful.
Well, all in all, it was relieving to finally cross this off my reading list. It was an okay book, I'd rate it 6/10 and if you want to read it, don't think about what's happening too much and you'll be okay. I conclude by saying that language is okay, but content (in terms of romance etc) would be Level 4 and I'd suggest an age of 15+ at least.
Happy Reading *-*